Minimally Invasive Joint Replacement
In a minimally invasive joint replacement, the surgery is performed through one or two smaller incisions rather than a single long incision as in the traditional approach. Advantages of minimally invasive approach include lesser muscle dissection, minimal pain, quicker recovery, and faster rehabilitation.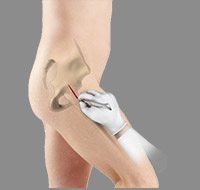 Surgery may be recommended in patients with severe cartilage damage and if conservative treatment options such as anti-inflammatory medications and physical therapy do not relieve the symptoms.